Wireless burglar alarm or wired?
Chris Boyd
Should I have a wireless burglar alarm fitted?
First of all, there is no straight forward answer to this, it all depends on your circumstances. A hardwired alarm system will always be more reliable than a wireless burglar alarm. That is why grade 3 and 4 burglar alarms must be hard wired. Hence you would will these installed in banks and other high-value premises.
A wireless burglar alarm system does, however, have a place in the domestic home, as it provides an easier installation in places where it's not feasible to have a wired alarm, as there is no need to run cables.
Traditional burglar alarms whether wired or wireless have essentially the same components:
The main control unit (the brain) with a battery back up
A warning device like the bell on the outside of a building also with a backup battery.
Some way of detecting an intruder. Like a door contact or PIR (passive infra-red sensor the type you usually see in the corner of rooms)
A form of communication to the monitoring station. (If monitored) Traditionally through a phone line, however its more likely to be GSM or IP these days.
Wireless burglar alarms communicate on a wireless radio frequency, like that used in traditional garage door remotes 434Mhz and 868Mhz. Most burglar alarms use 2 frequencies, to reduce the possibility of burglars hacking the system.
Wireless systems
If you do not already have a wired alarm a wireless system is the option to look at. Because there is no need to worry about having to run wires running around the home or pulling up floorboards and carpets.
Wireless burglar alarms have been installed in premises for many years, however with the introduction of DIY smart home devices like Philips hue and nest,  not to mention the ever-increasing number of other companies coming to the market, the home automation market has had an impact on wireless alarms and the way that we interact with them. The smart home market is ever changing and with new innovations, we are no doubt going to see more changes to our wireless options in the future.
Like any technology, there are positives and negatives. Detectors can sometimes lose signal. Just like Wi-Fi routers or mobile phones, wireless security systems are subject to various types of interference. This can cause the device to lose connection to the main hub, the effect of which can lead to false alarms; hence, a competent person should always install the alarm. Furthermore, there is still the ever-present risk of a savvy intruder being able to hack into the alarm itself, although this risk in my eyes is very low.
New wireless alarm technology
The one to watch now is the company Ajax because they have just brought out a new system. Ajax uses cutting edge technology, designed by IT engineers to make it as easy possible for you to use at home. The Ajax system has a central hub, that can have many different devices wirelessly connected to it, such as carbon monoxide monitors, smoke alarms and flood alarms. Time will tell whether this kind of alarm will take the place of traditional alarms, but technology is certainly changing and we as an industry must change along with it.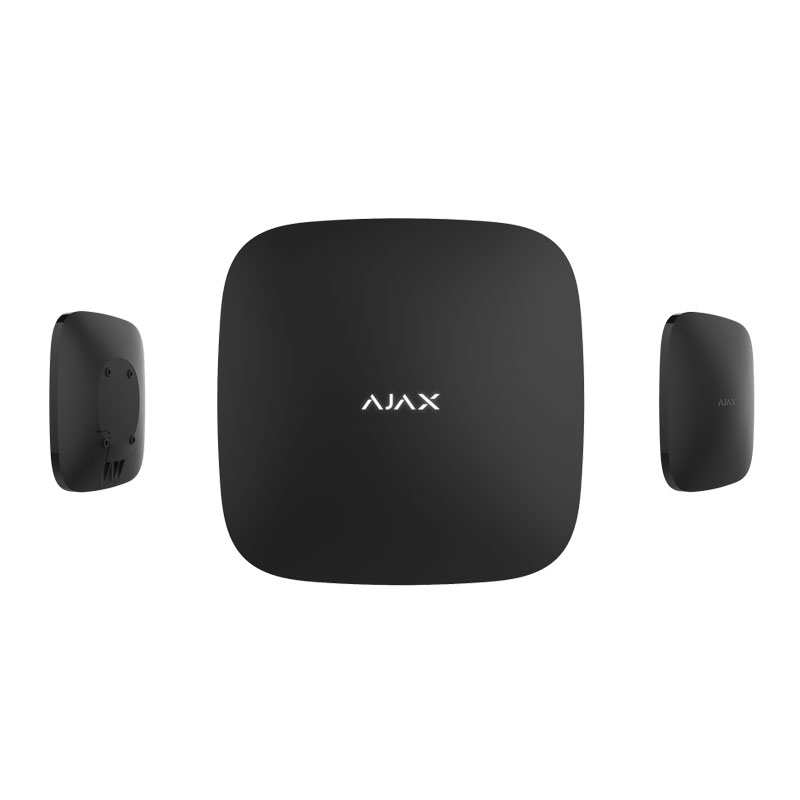 Wired systems
When your home has been prewired for a security system, a hardwired option will almost certainly be a better choice since the system will be easy to install. Furthermore, if you already have an alarm installed and you know which provider installed it, activating your system is simple—all that's required is a phone call and probably site visit to update the control panel. If you'd rather go with a different provider, they may be able to default the system. A new engineer code can then be added. Be aware that this is not always possible and you may struggle to get the engineer code from the installation company. Therefore a new control panel may be necessary. But if the wiring itself hasn't been damaged, all the existing sensors should still work.
Hybrid Systems
A hybrid system is the best of both worlds and can work using wireless and wired detectors. Most professional grade alarm panels, like the HKC panel, have hybrid technology. Therefore, older alarms can be upgraded while still keeping the existing detectors. This gives you the benefit of a wired and wireless burglar alarm.
Conclusion.
Wireless alarms will continue to grow in market share. As technology gets better so will the alarms. We at NSW UK always keep up to date with the latest advances in technology. So whatever your burglar alarm needs, why not get in touch with our friendly and helpful staff They can offer advice to help you find the best option for your needs.